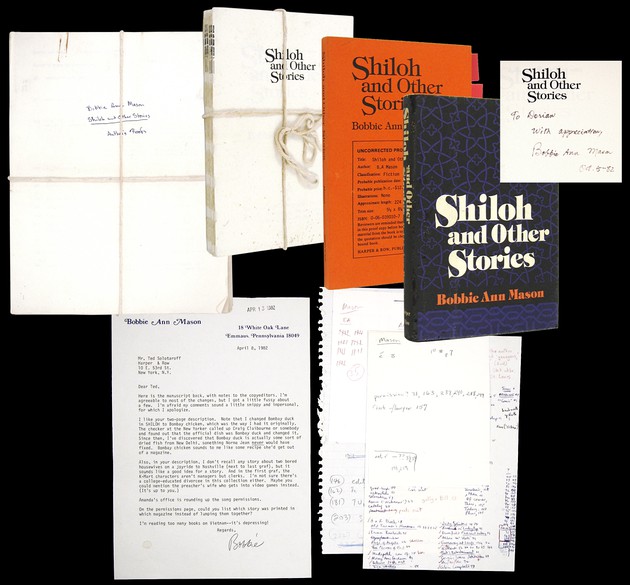 MASON, Bobbie Ann
Shiloh and Other Stories: An Archive
NY, Harper & Row, (1982). A small archive of publishing materials for Mason's third book and first work of fiction, including:
The "Author's Galleys." 247 typeset pages, reproducing copyeditor's corrections and with Mason's holograph corrections, mostly in the later stories. Many of her changes correct errors, but some show small rewrites. Loose sheets; near fine.
"Author's notes to Copyeditors," a two-page computer printout of nearly two dozen justifications for changes Mason does not want made (defending "goosebumps," "St. Louis," "youngun," "golly-bill," etc., with such explanations as: "Tears don't really fall, they run down the face and neck onto the breasts. This is perfectly possible while lying down." Also present are a handful of small handwritten notes (by editors) that appear to be tracking such things as proper names, trademarks, contractions, and copyrights.
A typed letter signed by Mason to Ted Solotaroff at Harper & Row, dated April 8, 1982, apologizing for sounding snippy and impersonal in her notes to the copyeditors and for being "a little fussy" about a few of her preferences. There is also a paragraph defending "Bombay chicken" as a recipe, as opposed to "Bombay duck." She also, apparently referring to proposed jacket copy, changes K-Mart managers to clerks; says she's not sure the collection has any college-educated divorcees; and says, "I don't recall any story about two bored housewives on a joyride to Nashville." Fine, on personal stationery.
The uncorrected proof copy. In two of the stories, small textual differences exist between this proof and the published book. (In all but one instance that we found, Mason attempted to correct these "errors" in her page proofs.) Fine in wrappers.
Folded and gathered sheets, i.e. unbound page signatures of the finished book. Mild foxing to half title; else fine.
The first edition. Inscribed by the author in the month prior to publication: "To Dorian/ With appreciation, Bobbie Ann Mason/ Oct. 5-82." Near fine in a very good dust jacket with some ink added to cover the rubbing to the spine.
A nice archive, documenting some of the work that went into Mason's ground-breaking Kentucky K-Mart fiction, with an added bit of foreshadowing: the last line of Mason's letter to Solotaroff reads: "I'm reading too many books on Vietnam -- it's depressing!" Mason's Vietnam-themed novel
In Country
would be published in 1984.
[#031718]
SOLD
All books are first printings of first editions or first American editions unless otherwise noted.
See more items by MASON, Bobbie Ann