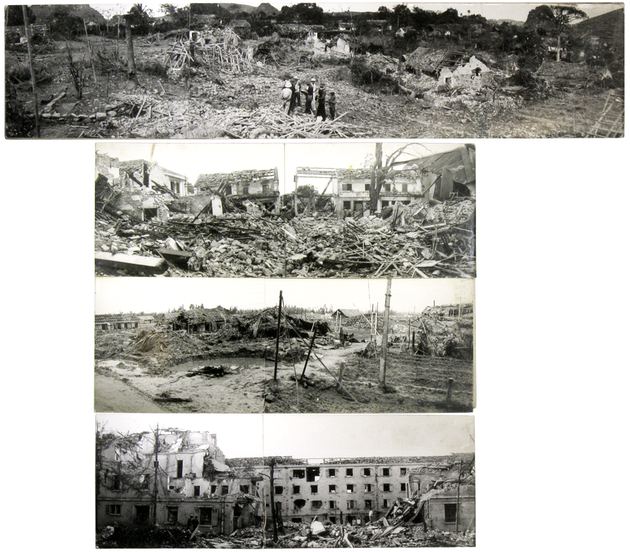 Photographs of Bombing
1972. Four panoramic panels (constructed from nine individual images) of post-bombing destruction. Only one of the images is labeled, on verso: "Nam Ngan hamlet, Don Soc district, Thanh Hoa province, destroyed by US bombs dropped from B.52's at 2:30 hrs, April 26, 1972." Black and white photographs, mounted on mat board. These were given to members of a U.S. peace contingent visiting Hanoi in late October 1972, just before the Presidential election that year, in hopes that their content would be publicized in the U.S. upon their return. The high-profile entourage of women consisted of Jane Hart, wife of Senator Philip Hart; the poet Denise Levertov; and the novelist Muriel Ruykeyser. They met with the Vietnam Committee for Solidarity with the American People and the Vietnam Women's Union. Richard Nixon, running on a "Peace With Honor" platform, won the election in a landslide over George McGovern, who ran as an explicitly antiwar candidate. The peace delegation had little but symbolic impact: it reiterated, as had been the case for years, that the bulk of the artistic community in the U.S. was soundly antiwar, and it showed -- as had also been the case for some time -- that the antiwar movement now included part of the mainstream of American life, in this case represented by a moderate Senator's wife. Three are 20" x 7"; one is roughly 26" x 6". Near fine. In our experience, unique.
[#031535]
$1,500
All books are first printings of first editions or first American editions unless otherwise noted.