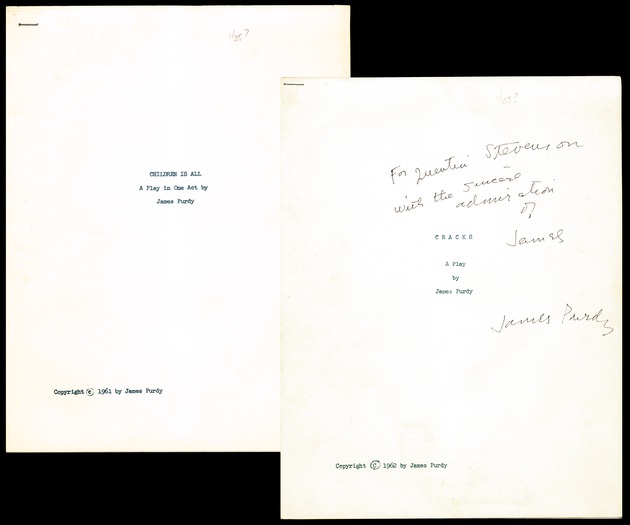 PURDY, James
Children is All and Cracks
(n.p.), (n.p.), 1961/1962. Mimeographed typescripts of two one-act plays, which were collected in his 1962 volume entitled
Children is All
.
Inscribed by Purdy on the title page of Cracks to the poet Quentin Stevenson
"with the sincere admiration of James" and
additionally signed, James Purdy
.
Children is All
(1961) runs 41 pages;
Cracks
(1962) runs 16 pages. Each is near fine; stapled in the upper left corner. Purdy was a controversial author whose works explored, among other things, gay themes at a time when this was taboo; his popularity and critical reception suffered as a result, but many of his more celebrated contemporaries considered him a genius and a great writer, among them being Tennessee Williams (who wrote a blurb for the book publication of
Children is All
); Edward Albee (who produced Purdy's play
Malcolm
); and Gore Vidal, who called him "an authentic American genius" and wrote in the
New York Times
article entitled "James Purdy: The Novelist as Outlaw" that "Some writers do not gain wide acceptance because their work is genuinely disturbing. Purdy is one of them."
As best we can determine, OCLC lists only two copies of the former typescript and one of the latter in institutional collections. Another collection lists "photocopies" of these two plays, but these productions predate plain paper photocopying. Scarce works by a writer whom Jonathan Franzen called "one of the most undervalued and underread writers in America."
[#031486]
$1,500
All books are first printings of first editions or first American editions unless otherwise noted.
See more items by PURDY, James