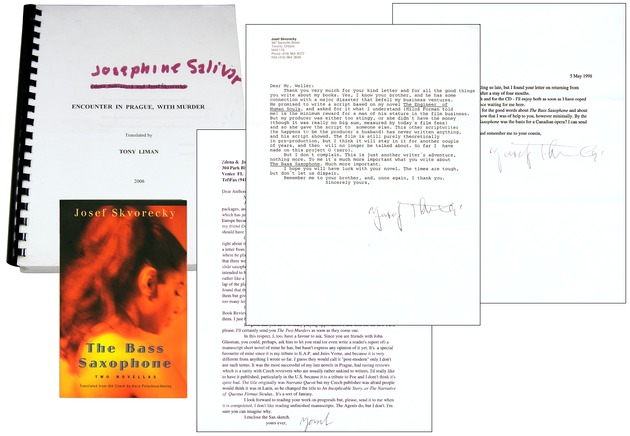 SKVORECKY, Josef; WELLER, Anthony
Correspondence Archive
1992-2011.
Fifty pieces of correspondence from Josef Skvorecky (Czech author of The Engineer of Human Souls, among many others) to his eventual friend, writer and musician Anthony Weller. Includes:
23 typed letters signed by Skvorecky; 1 typed note signed; 2 typed postcards signed; 3 autograph notes signed; 3 autograph postcards signed; 5 signed cards; 12 emails;
one unsigned letter which is together with the unpublished 2007 translation (bound computer printout, double-spaced, rectos only, 280pp.) of the author's novel Encounter in Prague, with Murder.
Much of the correspondence falls in the years 2001-2007, a time frame that included:
Weller providing an Afterword to a new edition of Skvorecky's The Bass Saxophone [Toronto: L&OD/Key Porter, 2001], a copy of which is included;
Weller writing an essay, in 2007, on the adaptations of The Bass Saxophone (five-pages, computer printout), also included;
and Skvorecky soliciting advice from Weller on the adequacy of the above translation of Encounter in Prague, on which Skvorecky's and his wife's (Zdena Salivarova) names are crossed out as authors and replaced by hand with the pen name "Josephine Salivar."
Weller's retained email response is included, as are 14 retained copies of letters from Weller to Skvorecky. Weller and Skvorecky shared a passion for jazz as well as both being writers, so their correspondence -- which at first is quite cordial, almost formal -- eventually developed into a friendship based on intellectual closeness and trust. Skvorecky is widely considered one of the most important Czech writers of the postwar and Soviet era. Choosing a self-imposed exile to Canada after the failure of the Prague Spring movement in 1968, he founded a press, 68 Publishers, to publish exiled Czech and Slovak writers whose works were banned in communist Czechoslovakia, including Vaclav Havel, the future President of the Czech Republic, and Milan Kundera, whose Unbearable Lightness of Being was first published in Czech by 68 Publishers. Skvorecky himself was a Nobel Prize nominee in the 1980s.
The correspondence spans more than 20 years, up to a point two months before Skvorecky's death. The two writers discuss music, writing, publishing, their health, their travels, and a range of other subjects, exchanging CDs and books (not present here), and discussing their own works as well.
Also included is the Czech edition of Nachod, 1254-2004 by Lubomir Imlauf and Stanislav Bohaldo, inscribed by Skvorecky "For Anthony my friend," in 2004, with an additional note saying it is also available in English. Nachod was Skvorecky's birthplace and featured prominently in much of his work.
In all a revealing look at one of the major writers of the 20th century, writing candidly to a friend, confidant and fellow writer, along with a typescript of an unpublished translation of one of his novels. All items fine.
[#029718]
SOLD
All books are first printings of first editions or first American editions unless otherwise noted.