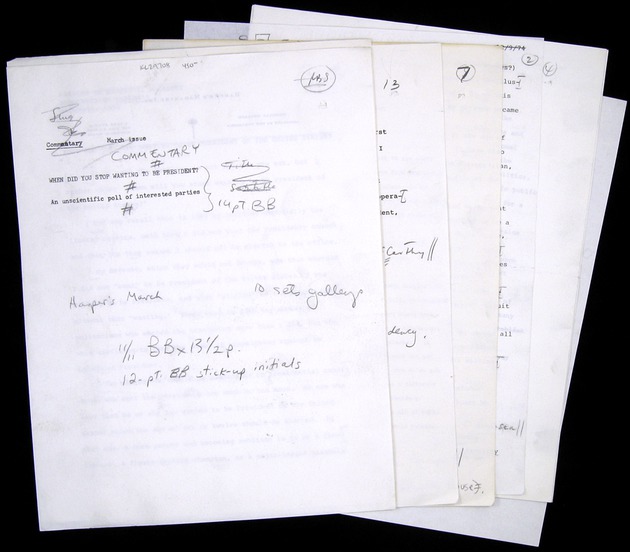 SORENSON, Theodore; McCARTHY, Eugene; PHILLIPS, Kevin; WHITE, Kevin
"When Did You Stop Wanting To Be President of the United States?"
(n.p.), (Harper's Magazine), (1974-1975). In 1974,
Harper's
conducted an "unscientific poll of interested parties," to be published in the March 1975 issue, on the subject of when the respondents
stopped
wanting to be President. Included here are the original, typescript replies of Theodore Sorensen, former Special Counsel (and speechwriter) to President Kennedy; Eugene J. McCarthy, former Minnesota Senator, who ran for President in 1968 (Democrat), 1972 (Democrat), 1976 (Independent), 1988 (Consumer-Progressive) and 1992 (Democrat); Kevin Phillips, Republican Party strategist (later an Independent) and author of
The Emerging Republican Majority
; and Kevin H. White, Democratic Mayor of Boston. White, over three pages, doesn't answer the question, but rather muses on the institution of the Presidency and the responsibilities inherent in and potential abuses of political office; Sorensen dates his decision to never be President to the birth of his daughter and his desire for privacy. His one-page answer concludes with a plea for "public financing and other campaign reforms" some time in the next three decades (a span that must have seemed adequate at the time). Phillips full-page response blames Johnson, Nixon and his "twerps," and Ford for his disillusionment with the institution. McCarthy, in a 2-page response, doesn't acknowledge giving up being willing to be President and suggests that by 1976 he may even start wanting to be. All the responses are unsigned, copyedited in pencil, and have a brief author bio added in pencil. All have been folded, apparently for mailing. With a (copyedited) cover page typed on the verso of
Harper's
stationery. The lot is near fine or better. An interesting look at politicians and other prominent individuals with political backgrounds commenting on the institution of the Presidency as well as their own political ambitions or lack thereof.
[#029708]
SOLD
All books are first printings of first editions or first American editions unless otherwise noted.