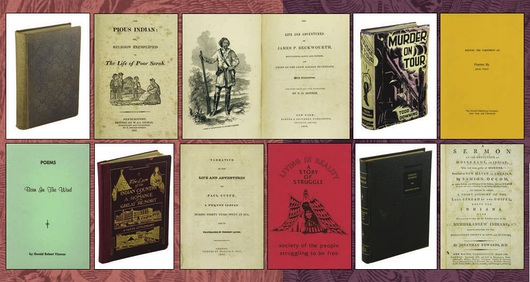 (Native American)
The Pablo Eisenberg Collection of Native American Literature
The Pablo Eisenberg Collection of Native American Literature comprises nearly 1500 volumes written by American Indian writers, from the 1700s to the 21st century -- including myths and legends, tribal histories, religious tracts, biographies and memoirs, fiction, poetry, drama and historical and political writings. It includes nearly 600 volumes of nonfiction and almost 900 volumes of literary work.
87 books of nonfiction dating from 1900 or before, going back to 1772. This is notable, considering that what is generally identified as the first Native American memoir, William Apes's A Son of the Forest, wasn't published until 1829.
13 books of fiction dating from 1900 or earlier: one of the important surveys of the field of Native American literature, Choctaw-Cherokee writer Louis Owens's Other Destinies, asserted that prior to N. Scott Momaday's Pulitzer Prize-winning House Made of Dawn in 1968, there had only been nine novels by Native American writers ever published. Definitions can vary, but this collection has 13 prior to 1900 whereas Owens saw only nine prior to 1968. One of the 13 is considered to be the first fiction published by a Native American writer -- an 1820 pamphlet containing a fictionalized life story of an Indian woman, written by a Christianized Indian as an inspirational religious tale.
The collection includes not only the early and hard-to-find books by such writers as Mourning Dove, Zitkala Sa (Gertrude Bonnin), D'Arcy McNickle, Ella Deloria, Charles Eastman and Pauline Johnson, dating from the late 19th and early 20th centuries, but also elusive books by a later generation of writers such as Leslie Marmon Silko, Linda Hogan, Gerald Vizenor, Maurice Kenny and Joy Harjo, whose early works were published in tiny quantities by small presses, or sometimes self-published, and which are virtually impossible to obtain.
The collection expands this field of study by including a number of works and authors not found in the standard bibliographies of the field. A library acquiring this collection would immediately be one of foremost destinations for research in this field; only a tiny handful of institutions have more extensive holdings in this often overlooked area of American literature. Native American literature, far from being a small subset of American literature, in reality expands the boundaries of American writing, challenging the written word to meet with oral history and storytelling traditions, where distinctions between fact, legend, myth and history obey different rules than they do within the European literary tradition. From the 1820 pamphlet Poor Sarah to Sherman Alexie's 2007 National Book Award winner, The Absolutely True Diary of a Part-Time Indian, the collection is the written expression of American Indian history and cultural identity from a time before America was a sovereign nation to the present moment.
Frequently, the copy of a particular title included in this collection would be the "best" copy available if it were offered for sale on the open market: there are numerous inscribed copies, association copies, and copies that belonged to notable authors or scholars with their notes. In short, it is a virtually irreplicable collection with great research value, and also substantial historical value.
[#029565]
SOLD
All books are first printings of first editions or first American editions unless otherwise noted.