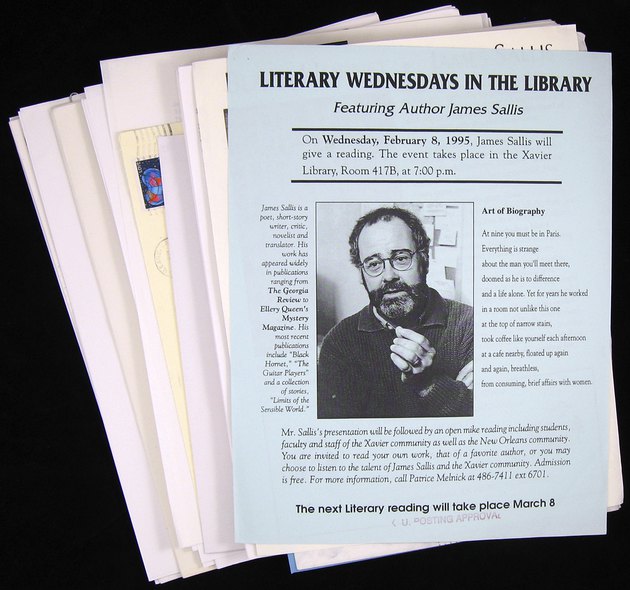 SALLIS, James
Manuscript and Correspondence Archive
[c. 1990s]. Writings by the noted mystery writer (and poet), who is, among many other things, the author of the story, and later the novel, that were the basis for the well-reviewed film
Drive
. The materials here belonged to Sallis' friend Robert Skinner, of Xavier University Library, himself also the author of a highly praised series of mystery novels. A notable association, made all the more so by the fact that both Sallis and Skinner have written mystery series that feature non-white protagonists -- Sallis an African-American, Lew Griffin; and Skinner a Creole, Wesley Farrell, who has been passing for white -- and they also each have written books on Chester Himes, the expatriate African-American mystery writer whose novels laid the foundation for mystery series featuring black detectives with his books that featured Harlem cops "Coffin" Ed Johnson and "Gravedigger" Jones. Sallis wrote a Himes biography and Skinner edited a book of interviews and compiled a bibliography. The Sallis archive includes:
the typescript (printout) of "George Pelecanos," which was published as the introduction to the 1999 St. Martin's paperback edition of Pelecanos' The Big Blowdown. With a few minor changes between this version and the published one. 4 pages.
the typescript (printout) of "Introduction," published in the 1994 Avalon paperback edition of Chester Himes's A Case of Rape. 7 pages.
the typescript (printout) of "Career Moves." 4 pages. Six vignettes about looking for work. Published in Potato Tree, 2007.
the typescript (printout) of "Day's Heat." Fiction. 20 pages (plus a blank, numbered 21st page), 4170 words. Published in Sallis' collection A City Equal to My Desire, 2000.
the typescript (printout) of "Uncles and Fireflies." An essay that pays tribute to his uncle; possibly unpublished. 4 pages.
the typescripts (printouts) of three poems, one page each: "Dawn in the Country's Still Heart," "Our Drive into the Country's Still Heart," and "Reading the World."
a typed letter signed to Robert Skinner, dated August 27, 1992. Touches on his own writing and on Skinner's work on Himes's unfinished novel Plan B (which Sallis calls Plan A). With mailing envelope.
a holiday invitation, 1993, hand-addressed; a signed birthday card, undated, with envelope; an autograph postcard signed, 1995, from New York; a signed holiday card, undated; a signed holiday card, with added sentiment, 1995, with envelope; a signed holiday card, 1997, with envelope.
a flyer announcing the publication party of Sallis' Black Hornet, a Lew Griffin novel; a flyer for a 1995 Sallis reading, which prints his poem "Art of Biography"; an unused promotional postcard featuring the cover art for Moth, another Lew Griffin novel; photocopy of a promotional flyer from No Exit Press, with mailing envelope; 3 promotional flyers from 1997; a 1999 printout of Iain Sinclair's review of Sallis' Eye of the Cricket, again a Lew Griffin novel, from Waterstones website.
approximately 75 pages of printouts of emails from Sallis to Skinner, May 1996 to October 1997 (plus one page from 1999), and one printed email signed, 2000, that Sallis had to mail when it kept bouncing back to him. With envelope.
All items fine.
[#028998]
SOLD
All books are first printings of first editions or first American editions unless otherwise noted.
See more items by SALLIS, James