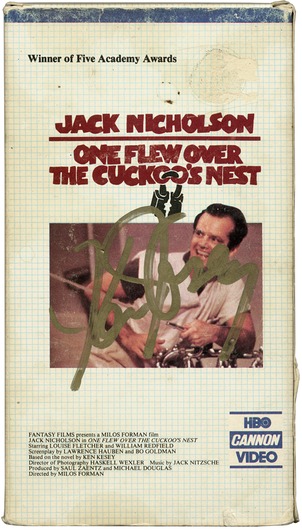 (KESEY, Ken)
One Flew Over the Cuckoo's Nest
NY, HBO/Cannon Video, (n.d). The 1975 Academy Award-winning movie based on Kesey's novel, in VHS format.
Signed by Kesey
on the case, over the picture of Jack Nicholson, who himself won an Academy Award for the lead role. The placement of the signature may have been a statement on Kesey's part: he was known to have strongly opposed the casting of Nicholson as McMurphy (thinking a more physically imposing actor, such as Gene Hackman, would have been more appropriate), and he reportedly considered having his own name taken off the movie in protest. Kesey's son, Zane, said that this was the only copy of the movie he had ever heard of being signed by his father, because of how thoroughly unhappy he was with the film. Fine in a very good, rubbed case, with a small sticker removal abrasion.
[#028935]
$750
All books are first printings of first editions or first American editions unless otherwise noted.