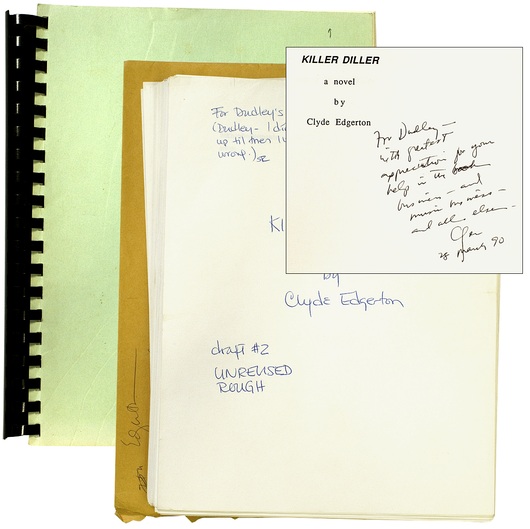 EDGERTON, Clyde
Typescript of Killer Diller
[c. 1990]. Two typescript drafts of Edgerton's fourth novel. One draft is
warmly inscribed by Edgerton to Dudley Jahnke
"with greatest appreciation for your help in the book business -- and music business -- and all else" and dated "28 March 90."
Killer Diller
deals with a struggling musician who forms the Killer Diller Blues Band, thus the reference to Jahnke's help with the "music business." Comb-bound in cardstock covers and titled in Edgerton's hand. This draft reproduces a number of the author's changes, which are especially heavy at the beginning of the book.
A note in Edgerton's hand
on the first page states that "The copy gets cleaner in a few pages." Near fine. The other draft, approximately 250 loose photocopied sheets from a dot matrix printer original, reproduces heavy editing by "SR," with SR's title page. This draft differs substantially from the bound draft, and the opening of the book [at least] is entirely different. Fine. Together with an envelope,
hand-addressed by Edgerton
to Dudley Jahnke, the recipient of both drafts. The novel, in a form that varies from both drafts above, was published by Algonquin Books in 1991. It was the basis for a limited release film in 2004 which won an award at the Heartland Film Festival. Edgerton, in addition to being a Guggenheim Fellow, has won the North Carolina Award for Literature. An interesting look at a work-in-progress by an important North Carolina author.
[#027598]
$1,750
All books are first printings of first editions or first American editions unless otherwise noted.
See more items by EDGERTON, Clyde