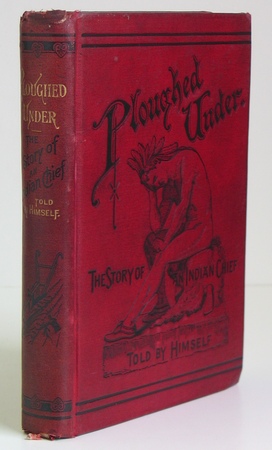 (INSHTA THEAMBA, aka "Bright Eyes," aka Susette La Flesche Tibbles). HARSHA, William Justin
Ploughed Under; the Story of an Indian Chief. Told by Himself
NY, Fords, Howard & Hulbert, 1881. An anonymous first person account attributed to Harsha, who was
not
an Indian chief as indicated but rather a Presbyterian pastor, thus making this a novel. With an introduction by Inshta Theamba,
aka
"Bright Eyes," an Omaha Indian whose father, a French-Indian, was the last head chief of the Omaha tribe. Her English name was Susette La Flesche and she married a white man named Thomas Tibbles. Susette La Flesche Tibbles, at the encouragement of Helen Hunt Jackson, contributed much of the information used to create the story and give it authenticity, in addition to writing the introduction. She was an early advocate of Indian rights, and the introduction, although short, is an eloquent re-statement of the "Indian problem" that lays to rest the white assumptions that make it a "problem." We know of no earlier book in which a Native American woman writer was a major contributor. Library stamp on the verso of the title page, which is detaching; ownership name on first blank. A very good copy in red cloth, and an early, important volume in the history of Native American literature, and particularly Native American women's literature.
[#025556]
$150
All books are first printings of first editions or first American editions unless otherwise noted.