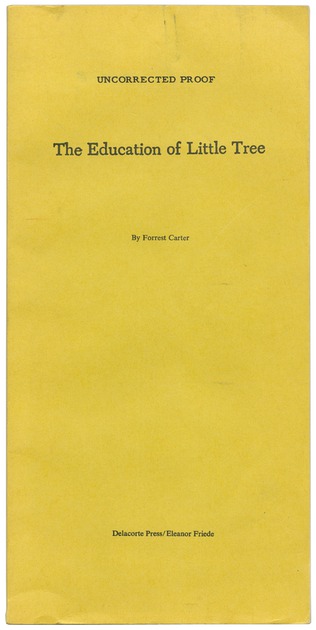 CARTER, Forrest
The Education of Little Tree
(n.p.), Delacorte, (1976). The uncorrected proof copy of Carter's most famous book, which its publisher originally identified as "a true story" while it identified the author as a "part-blood Cherokee who is Storyteller in Council to the Cherokee Nations." A dozen years after its initial publication,
The Education of Little Tree
was chosen by independent booksellers as the book they most liked to sell and it became a word-of-mouth bestseller in a paperback edition published by the University of New Mexico Press. Later, Carter was discovered to be a white man from Alabama who had worked for right-wing politician George Wallace, writing racist propaganda. Carter may have written racist tracts for George Wallace, but in
The Education of Little Tree
he endorsed humanist values of a high order, which he ascribed to Native American traditions -- respect for the land and one's family, honoring one's elders, promoting generosity and good faith, abhorring hypocrisy and brutality. Even as fiction,
The Education of Little Tree
raises serious and difficult questions, but it has been taken by many as strongly promoting a healthy sensitivity to, and respect for, Native American traditions and perspectives. In some circles, the question of the book's authenticity is today less of an issue than that of its sentimentality. "Little Tree" handwritten on spine; paperclip imprint top edge of front cover; near fine in tall wrappers. Extremely scarce: this is the only copy of the proof we've ever seen, and it dates from an era when, first, proofs were less widely distributed than they later came to be and, second, they were less likely to be viewed as collectibles and filtered into the rare book market, and more likely to simply be discarded after use.
[#025387]
$750
All books are first printings of first editions or first American editions unless otherwise noted.
See more items by CARTER, Forrest