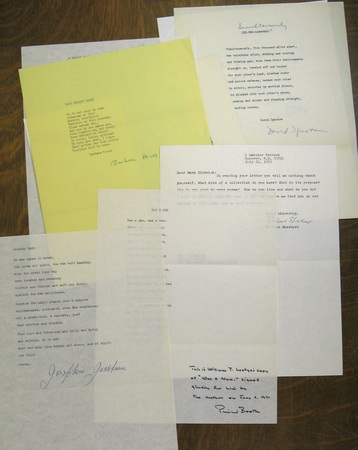 (BOOTH, Philip; CONNELL, Marc; EBERHART, Richard; HOWES, Barbara; IGNATOW, David; JACOBSEN, Josephine; STAFFORD, William)
Poets and Poetry
(n.p.), (n.p.), [c.1969-1971]. A small collection (10 items; 7 authors) of signed fair copy poetry and typed and autograph notes signed, solicited by a collector in the early 1970s, as follows: Philip Booth, a fair copy of "Was a Man" with an
autograph note signed
at the bottom of the page; Marc Connell, a
typed note signed
transmitting two autographs (not present); Richard Eberhart, a
typed note signed
soliciting information and assurances from the recipient before agreeing to sign a poem; Barbara Howes,
signed fair copies
of "Troy Weight Taken" and "A Night Picture of Pownal" and a
signed Christmas greeting
entitled "Talking to Animals;" David Ignatow, a
signed fair copy
of "Get the Gasworks," which Ignatow has re-titled by hand "Simultaneously;" Josephine Jacobsen, a
signed fair copy
of "Country Bath;" William Stafford, an
autograph note signed
agreeing to be part of the collection; and, lastly, a note from Thornton Wilder's sister Isabel explaining that Thornton is not well enough to participate. Most of the items are folded for mailing; else fine.
[#018709]
$190
All books are first printings of first editions or first American editions unless otherwise noted.