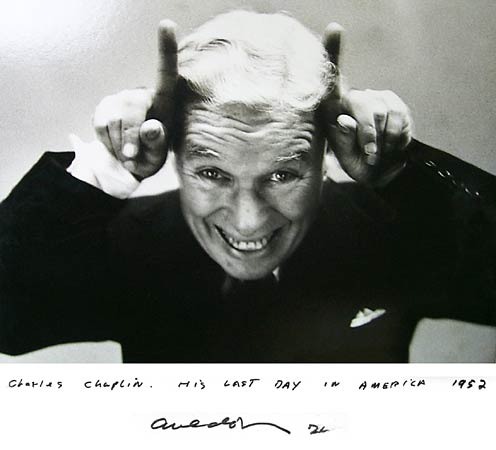 AVEDON, Richard
Charlie Chaplin - "His Last Day in America 1952"
1971. From the estate of Pauline Kael. An original Avedon print, titled and
signed by the artist
in 1971. Richard Avedon began his career as a fashion photographer in 1945, and he came to be known as the preeminent contemporary American portrait photographer. This image, of the one-time lovable Little Tramp posing as the Devil on his last day in the U.S., is one of Avedon's most famous, and one of the most famous images of Chaplin. Chaplin, who had long sought teenage girls as his lovers and wives, was hounded by years of persecution for his sexual proclivities and his left-leaning views. In 1944 he was involved in a high-profile scandal when he was indicted on charges involving a young actress he had brought to California and, although he was exonerated on all counts, the negative publicity began a series of events culminating in his voluntary exile from the U.S. eight years later. In addition, the FBI had stepped up its investigations of him as a result of his public statements in support of Russia and Soviet Communism. In 1952, when Chaplin left for England to promote his film "Limelight," the U.S. Attorney General used the opportunity to revoke his re-entry permit (Chaplin had never been an American citizen) unless Chaplin agreed to even more scrutiny of his private life. Chaplin opted to settle Switzerland with his third wife, Oona O'Neill (daughter of Eugene O'Neill). This Avedon image is the final image of Chaplin in America and a pointed reference to his demonization by the American press and government. Pauline Kael's first film review, in 1953, was of Chaplin's "Limelight." She didn't like it, and it launched her career. 19-3/4" x 15-3/4". Fine.
[#017958]
SOLD
All books are first printings of first editions or first American editions unless otherwise noted.