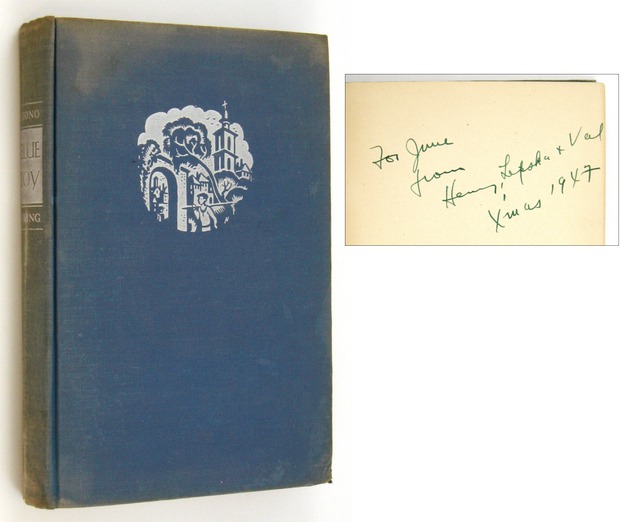 (MILLER, Henry). GIONO, Jean
Blue Boy
NY, Viking, 1946. The first American edition of this novel by Giono, a writer whom Miller had come to admire while in France and whom he had long worked to get published in the U.S.
Inscribed by Miller to his muse and former wife, June
: "For June/ from/ Henry, Lepska & Val/ Xmas 1947." Lepska was Janina Martha Lepska Miller, Henry's third wife, and Val was their two year-old daughter. Henry and June had not been in regular touch for several years at this point, but she had recently contacted him and was destitute. He arranged for a friend to send her some money (he was still broke in the U.S.; his books had sold well in France and he had a substantial amount of money there but no way, under postwar regulations, to get it out of the country). His renewed contact with June, however, sparked his getting back to work on the
Rosy Crucifixion
, which he saw as his masterpiece-to-be, but which had been languishing. The part he was about to embark on -- dealing with his time with June and Jean Kronski -- was full of painful memories that Miller would have to relive in order to write it. The contact with June -- with whom he maintained contact thereafter -- allowed him to revisit that time and those experiences, and to finally bring to fruition the long-contemplated work. The cloth is heavily and unevenly faded; corners bumped; a very good copy, lacking the dust jacket. An excellent association copy, representing numerous strands of Miller's life over the prior two decades.
[#012914]
SOLD
All books are first printings of first editions or first American editions unless otherwise noted.