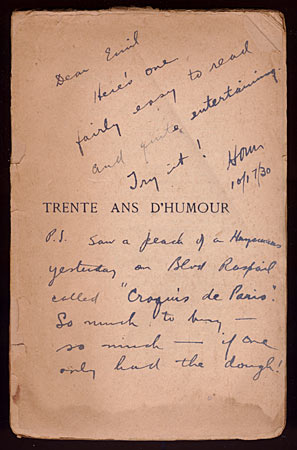 (MILLER, Henry). BRINGER, Rudolphe
Trente ans D'Humour
Paris, France-Edition, (1924).
Inscribed by Miller to Emil Schnelluck
, one of his oldest friends and one of only a handful who stayed close to Miller through the enormous changes in his life after he met June Mansfield and left his previous existence behind in almost every respect. Schnelluck had been to Europe long before Miller had, and he used to recount to Miller his memories of his visits there, which Miller eagerly soaked up. Now Miller, in Paris for the second time in October, 1930, relays this book to his friend, with a recommendation that it is "fairly easy to read and quite entertaining. Try it!" He also recounts seeing "a peach of a Huysmans yesterday on Blvd Raspail called 'Croquis de Paris.' So much to buy -- so much -- if one only had the dough!" A wonderful inscription to one of his best friends, focused on Paris and books, not to mention poverty -- the important early themes of Miller's literary life. Wrappers are missing and the inscription is on the half-title which is the first page here. Page detached from the rest of the text; extremely brittle, acidifying pages. The condition is fair, and with a risk of deterioration. Miller's underlinings and comments in the text. An excellent personal association.
[#012912]
SOLD
All books are first printings of first editions or first American editions unless otherwise noted.