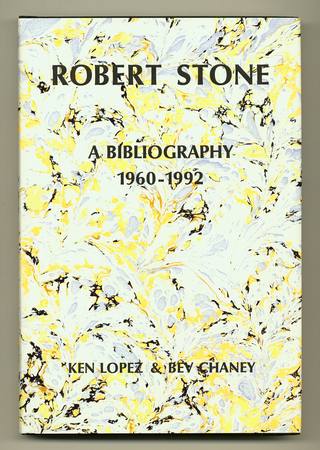 (STONE, Robert). LOPEZ, Ken and CHANEY, Bev
Robert Stone. A Bibliography 1960-1992
Hadley, Numinous Press, 1992. A first bibliography of Robert Stone, describing in detail the American and British editions of his "A" items up through
Outerbridge Reach
, along with an extensive listing of his appearances in others' books, in periodicals, in translation, etc. Illustrated with photographs, and including a critical introduction, as well as a previously unpublished piece by Robert Stone: the transcript of an impromptu talk that Stone gave at the Library of Congress for the tenth anniversary of the PEN Faulkner Award in 1989, about his exposure at a young age to the effects of writing, experienced upon reading Coleridge's
The Rime of the Ancient Mariner
. Stone, who won the National Book Award for his novel
Dog Soldiers
, was widely considered one of the most important American novelists to emerge from the era of the Vietnam war and the Sixties counterculture, and the short list of his published novels does not give an accurate indication of his pervasive influence on contemporary American literature. By tracing the secondary appearances (the bibliography includes over 240 entries), one begins to appreciate the scope of his writing and the points at which his voice was one of those that defined our current situation and gave us the terms with which to understand it. The limited edition. One of 150 numbered copies,
signed by Robert Stone
. With a marbled paper dust jacket created expressly for this edition by Light of Day Bindery in Northampton, MA, and printed letterpress by Wild Carrot Press. Can be signed by Ken Lopez, if desired.
[#010984]
$95
All books are first printings of first editions or first American editions unless otherwise noted.
See more items by STONE, Robert. LOPEZ, Ken and CHANEY, Bev