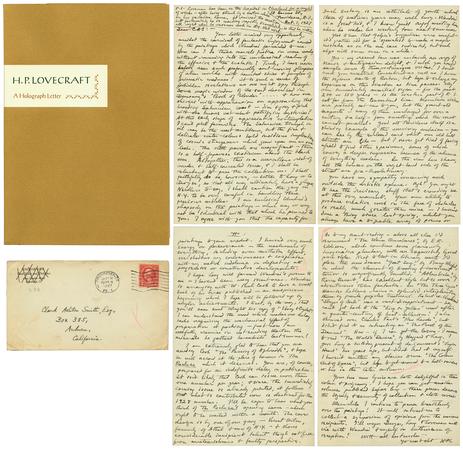 LOVECRAFT, H.P.
Autograph Letter Signed
1927. October 1, 1927. Written to horror writer and artist Clark Ashton Smith ("C.A.S."), one of the circle of friends and fellow writers known to posterity as the Lovecraft Circle, and one of the writers whose work extended the Cthulhu Mythos that Lovecraft had invented and which then became part of the fictional milieu of a whole group of writers for
Weird Tales
and the other pulps in the 1930s and after. Four pages, closely written on two sides of two 6" x 9" sheets; approximately 1300 words. Lovecraft begins by admiring the paintings by Smith that Donald Wandrei had sent him ("Truly, I have never before seen such profoundly soul-moving glimpses of alien worlds with haunted skies and jungles of prismatic madness. It is such a series of forbidden revelations as one might spy through some magic window of the sort described in Dunsany's 'Book of Wonder'..."). He discusses his travels, particularly to areas in New England that are predominantly unchanged for the past 150 years, and sympathizes with Smith's struggles to write and paint, bolstering his friend by calling him more successful than himself in his "ability to produce creative work... I haven't very much energy or perseverance -- the uselessness of everything, including even aesthetic effort, overshadows my consciousness & cooperates with my native indolence in defeating all progressive or constructive developments." He mentions the first issue of
The Recluse
magazine, which published his essay "Supernatural Horror in Literature" and recommends to Smith that he read E.R. Eddison's now-classic
The Worm Ourobouros
, which had just been published in the past year, "which combines some gloriously imaginative phantasy with an exquisitely lyrical prose style." He recommends the new Franz Werfel, recounts his disappointment in the new Robert Chambers book, and about his own writing he says "I haven't written any stories since 'The Colour Out of Space', but hope to get around to a hell-raiser or two in the later autumn." A highly personal, informative letter to one of his closest writer friends: Smith and Lovecraft first "met" in 1922 when Lovecraft wrote him a fan letter, and they began a long and intimate correspondence until Lovecraft's death in 1937. They are considered, in retrospect, the two most outstanding figures of the classic era of American horror fiction, with Lovecraft at the pinnacle and Smith a somewhat distant second.
Signed "HPL"
. Folded for mailing; near fine, with envelope. The sheets are inserted in sleeves, which are bound into a custom folder, which is fine.
[#027235]
SOLD
All books are first printings of first editions or first American editions unless otherwise noted.