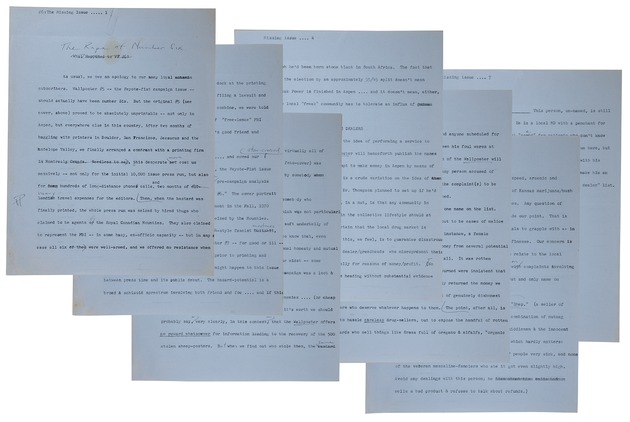 THOMPSON, Hunter S.
"The Rape of Number Six"
(n.p.) [Aspen], (n.p.), (1971). Typed manuscript, seven pages, ribbon copy,
with Hunter Thompson's changes, corrections and revisions throughout
. When the
Aspen Illustrated News
, the underground newspaper of Aspen, Colorado, folded in February of 1970, Hunter Thompson and an artist named Tom Benton collaborated to create a new publication --
Aspen Wallposter
-- a large-format single sheet with Benton's graphic artwork on one side and Thompson's political writings on the other. After five posters were issued, Thompson and Benton could not find a printer for number 6 and sent it to Canada for printing; after the printing was finished, the entire run was confiscated by Canadian authorities and other individuals supposedly representing the American FBI. Thompson's manuscript here appeared, with some changes, on the back of
Wallposter
#7, explaining why there had been no number 6, and also introducing a proposal to expose "Treacherous Drug Dealers" -- or "doxing" them as it might be called today. The final paragraph of this typescript does not appear in the published version at all: it was to have exposed a second "treacherous" drug dealer but was cut from the final publication. Thompson manuscripts are very scarce and ones such as this, dating from the time of his abortive run for Sheriff in Aspen (the subject of
Wallposter
#5) are especially so, predating
Fear & Loathing in Las Vegas
and showing Thompson practicing what would be called "gonzo journalism" at a time before he had become a celebrity. All sheets at least very good.
[#035045]
$8,500
All books are first printings of first editions or first American editions unless otherwise noted.
See more items by THOMPSON, Hunter S.