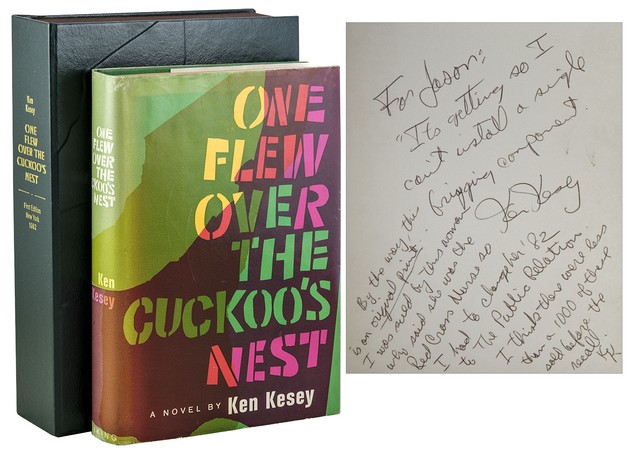 KESEY, Ken
One Flew Over the Cuckoo's Nest
NY, Viking, (1962). Kesey's landmark first book, a pivotal novel of the literature of the Sixties, which helped to shape a generation's attitudes on issues of authority, power, madness and, finally, individuality.
Inscribed by Kesey
: "For Jason: It's getting so I can't install a single frigging component. Ken Kesey/ '82/ By the way, this is an
original print
...I was sued by this woman who said she was the Red Cross Nurse so I had to change her to The Public Relations. I think there were less than 1000 of these sold before the recall. KK." Kesey was wrong about the "1000" copies: the character of the nurse was rewritten sometime after the third hardcover printing, and later editions, including the mass market paperback and the "definitive" text in the Viking Critical Library Series, have the alternate, male character in her place. Apparently the terms of the settlement of the lawsuit included not publicizing it, and this is the only place we are aware of where Kesey recounted it in writing. (An irony: the woman who sued Kesey and his publisher was herself the subject of a similar lawsuit a dozen years later, when she wrote a novel about a California nude therapist and was sued by the model for her book's protagonist, despite her having changed the gender of the therapist.) This is a very good copy with some spotting to the spine and some fading to the top stain, in a near fine dust jacket with some green cloth bleed on the verso, but outwardly a beautiful copy but for a touch of the endemic fading to the spine. Now housed in a custom leather clamshell case. A bibliographically noteworthy copy, recording the little known changes to this book's original text.
[#034839]
SOLD
All books are first printings of first editions or first American editions unless otherwise noted.