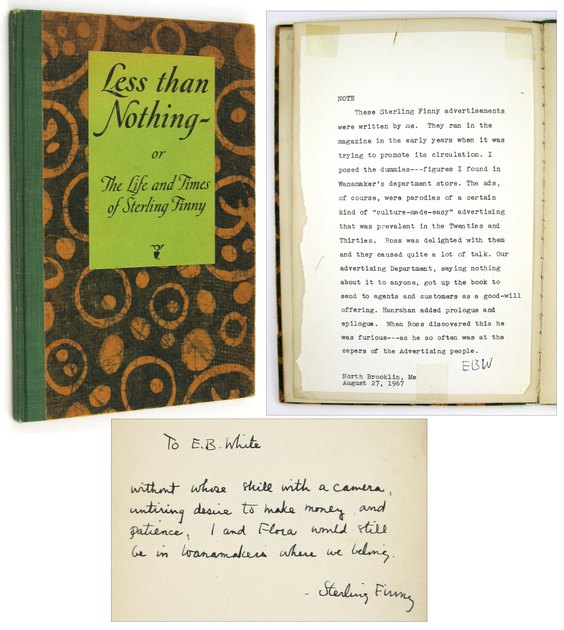 WHITE, E.B.
Less Than Nothing - or, The Life and Times of Sterling Finny
[NY], [The New Yorker], [1925]. White's first book, a collection of humorous advertisements he wrote anonymously for
The New Yorker
, showing how subscribing to the magazine could offset one's social shortcomings and enhance one's prestige. Short vignettes, each illustrated with photographs White took of a couple, "Sterling and Flora Finny," embodied by mannequins from Wanamaker's department store.
Inscribed by White (as "Sterling Finny") to himself
: "To E.B. White/ without whose skill with a camera, untiring desire to make money, and patience, I and Flora would still be in Wanamaker's where we belong. - Sterling Finny." Taped to the verso of the title page is a
typed note signed "EBW"
and dated August 27, 1967, giving the background on the Finny advertisements and on the book, which was put together by the advertising department as a good-will offering to agents and customers, without Harold Ross's knowledge, and with a prologue and epilogue by John Hanrahan (
credited in the book only in pencil, by White
). A very scarce publication: OCLC locates only seven copies, none of them signed by the author let alone with a humorous inscription/commentary by him, and an explanation of the book's history. We can find only one appearance at auction listed in the online records we reviewed. A thin, hardbound volume: text block separated from the front board, thus a good copy, now housed in a custom clamshell case. The best possible copy of the scarce first book by the great
New Yorker
essayist and the author of the classic,
Charlotte's Web
, among many other books.
[#033503]
$15,000
All books are first printings of first editions or first American editions unless otherwise noted.