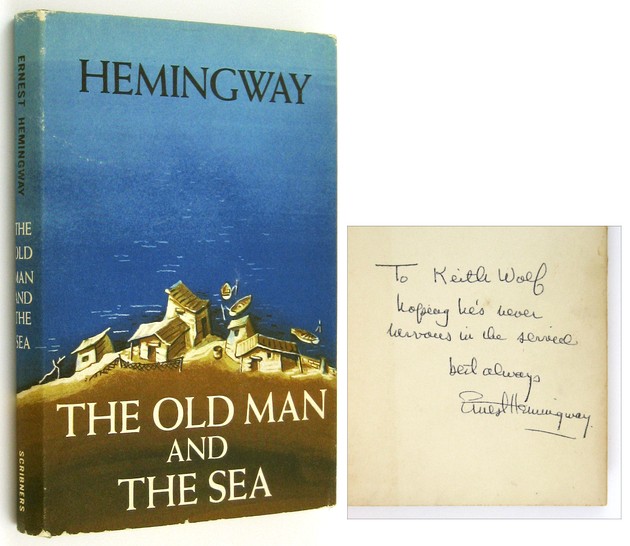 HEMINGWAY, Ernest
The Old Man and the Sea
NY, Scribner's, 1955. Later, Nobel Prize edition of the last book published in Hemingway's lifetime,
inscribed by the author
: "To Keith Wolf/ hoping he's never/ nervous in the service/ best always/ Ernest Hemingway."
The Old Man and the Sea
won the Pulitzer Prize for fiction in 1953 and helped earn Hemingway the 1954 Nobel Prize for Literature. A short novel that has been characterized as a fable, it deals with a Cuban fisherman's struggles to land a giant marlin that he has hooked, and reflects Hemingway's concern for life as a struggle of man against nature, including his own nature. By the time of the publication of
The Old Man and the Sea
, Hemingway's literary star had seemingly fallen: his previous novel,
Across the River and Into the Trees
, had been soundly panned by critics, who called it a poor parody of Hemingway's earlier writings. By the 1950s, his physical health was declining as well, and he seldom ventured into the public limelight anymore, as he had been so accustomed to doing in previous decades. As a result, this title -- one of the high spots in the Hemingway canon -- seldom turns up signed or inscribed, in comparison to many of his earlier books. Keith Wolf was the brother of Jacob "Jake" Wolf, a writer who was an expert on the life of Hemingway and reviewed Hemingway's books and books about him for the St. Louis Post-Dispatch. Jake Wolf visited Hemingway with a friend at Finca Vigia in Cuba in 1957, which is probably where he got this book inscribed for his brother. A very good copy in the Nobel Prize dust jacket (supplied) which is near fine, with light wear at the bottom of the rear panel. A handsome copy of one of Hemingway's most important works. Six years after this edition was published, Hemingway, suffering from failing health, committed suicide. He never finished any of the other writing projects he was working on over the last decade of his life.
[#033502]
SOLD
All books are first printings of first editions or first American editions unless otherwise noted.