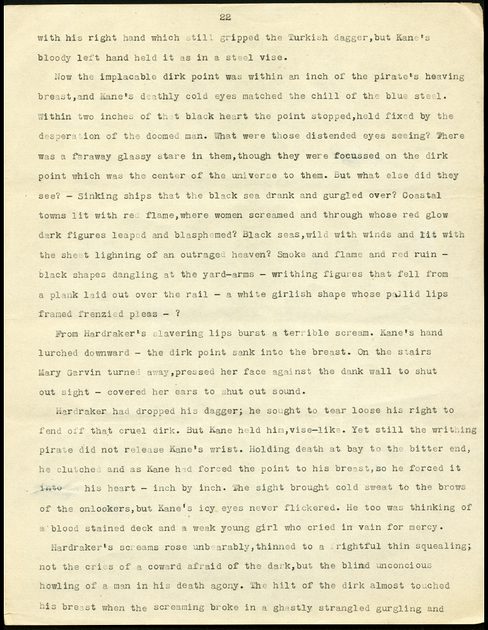 HOWARD, Robert E.
One Page of Typescript from "The Blue Flame of Vengeance"
(n.p.), (n.p.), (n.d.). The original ribbon-copy typescript of page 22 from the Solomon Kane story, "The Blue Flame of Vengeance," also known as "Blades of the Brotherhood." The collector from whom we purchased this item explained its provenance as the following: in the early 1970s, when Chuck Miller was trying to raise money in order for him and Tim Underwood to start their specialty science fiction and fantasy publishing company Underwood/Miller Books, Miller took a 31-page Robert E. Howard manuscript and sold the pages separately, for $50 apiece; the first page, with the story title and the author's name and the only holograph change to the text, was $100. Howard created Conan the Barbarian and is widely credited with having invented the sword-and-sorcery subgenre of the fantasy genre. He committed suicide at the age of 30 in 1936, and original material by Howard is rare in the market. One 8-1/2" x 11" sheet, with a photocopy of the original entire 31-page typescript; near fine.
[#032776]
ON HOLD
$750
All books are first printings of first editions or first American editions unless otherwise noted.