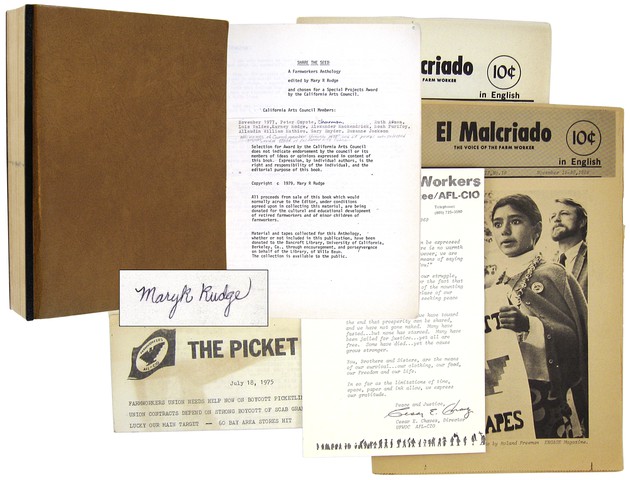 RUDGE, Mary R.
Typescript of Share the Seed: A Farmworkers Anthology
1979. An apparently unpublished compilation of the voices of the Farmworkers Movement, edited by Rudge, peace activist and poet (who, in her later years, was the poet laureate of Alameda, CA).
Signed by Rudge
at the end of her foreword to the volume. Perhaps a hundred voices, providing narratives, poems, songs, "documentary," and photographs (in photocopy). Hundreds of pages, assembled photocopies of varying quality, but with many holograph corrections and emendations, in what appears to be the authors' and the editor's hand. Velobound in brown vinyl covers. Several pages are adhered, possibly due to the use of Whiteout. Several pages missed the binding and are thus laid in. Also laid in is the obituary of one of the contributors, as well as several ephemeral pieces from the Movement: a printed Thanksgiving letter from Cesar Chavez, 1969, commemorating the fifth Thanksgiving of the farm workers' struggle;
El Malcriado
, "The Voice of the Farm Worker" newsletter for both November and December, 1969;
The Picket Line
, July 18, 1975; "The Children of Delano invite you to meet with Cesar E. Chavez" [1969] -- a one-page legal-size handbill promoting an event sponsored by the UFWOC [United Farm Workers Organizing Committee] Defense Fund Committee. These last two pieces are sunned and folded, otherwise the ephemeral items are near fine, as is the typescript itself. A unique document of one of the major social justice movements of the 1960s and 70s, which touched on contemporary racial issues and anticipated present day issues of immigration, citizenship, and undocumented workers. Here the voices of the people themselves prevail, rather than those of analysts or policy makers.
[#032673]
SOLD
All books are first printings of first editions or first American editions unless otherwise noted.