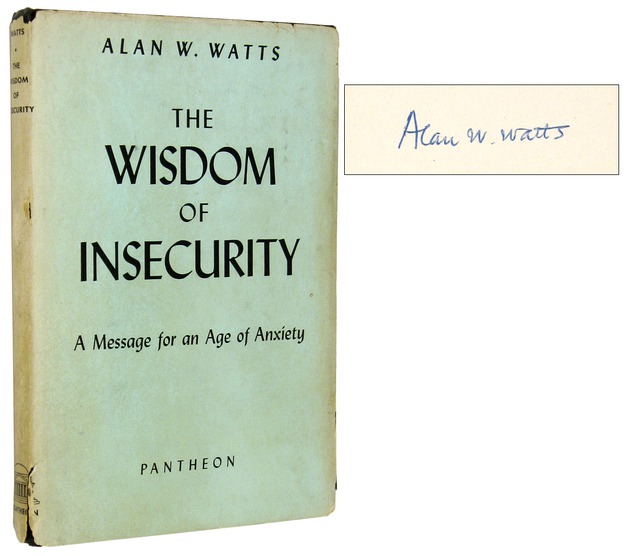 WATTS, Alan W.
The Wisdom of Insecurity
(NY), Pantheon, (1951). An interpretation for Western readers of Eastern thought and the implications of the mystical experience, by the foremost exponent of Zen and Oriental philosophy in the West for the better part of the century.
Signed by the author
. Watts's writings about Zen and other Eastern religions date back to the Thirties, and he became an important figure to the Beat movement and later the counterculture as the most accessible purveyor of information about those philosophies and disciplines -- an enormously important role for a generation that was experimenting with altered states of consciousness. These days, when the New Age movement has made every spiritual discipline commonplace, it is hard to imagine a time when information about these ideas and practices was hard to come by and, when found, was more likely to be couched in the analytical terminology of an outsider examining an alien subject than grounded in cultural sensitivity and respect for the human values being represented. Watts's writings helped break down the barriers between East and West and usher in a new level of awareness both about foreign cultures and about universal human truths. Near fine in a good, fragile dust jacket that is spine faded and chipped at the corners and spine extremities and separated at the front fold. With a gift note tipped to the rear free endpaper. Watts's signature is uncommon, particularly from the period before he became an icon and celebrity.
[#032332]
SOLD
All books are first printings of first editions or first American editions unless otherwise noted.