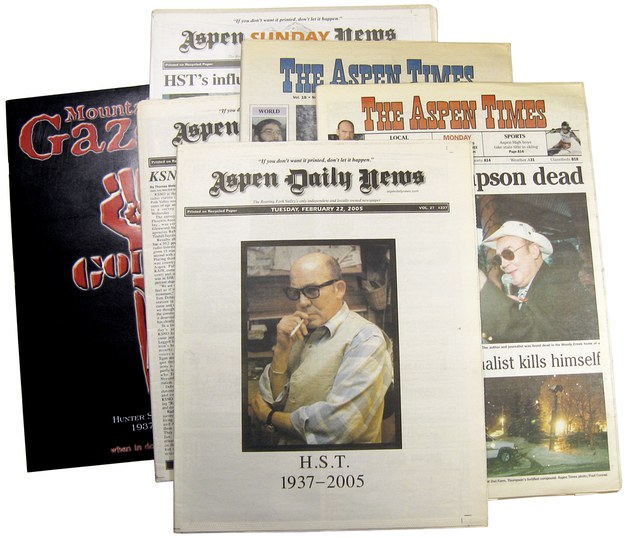 (THOMPSON, Hunter S.)
Obituaries/Tributes from Colorado
(Aspen/Frisco), (various), 2005. Local coverage of Thompson's suicide, spanning three issues of the
Aspen Daily/Sunday News
(February 22, 24, 27); two issues of
The Aspen Times
(February 21, 23); and one issue of
Mountain Gazette
(March). Thompson killed himself on February 20. Approximately 20 articles in the six issues. Included: "Seminal Gonzo Journalist Kills Himself," "A Totally Unclassifiable Life," "Hunter Thompson Death Feeds Frenzy for Merchandise," "Hunter S. Thompson's Local Legacy [editorial]," "Hunter's Kitchen," "Thompson's Death Marks the Passing of a Literary Era," "Canon Roars for Hunter S. Thompson," "We Will Miss You Hunter S. Thompson [commentary]," "Hunter, What Were You Thinking? [commentary]," "The Origin of
Fear and Loathing
," "Friend: Thompson Wasn't One to Die in Hospital," "Thompson Probably Planned Suicide Well in Advance, Family Spokesman Says," "HST's Influence on Aspen Profound," "Aug, 19, 1996: Hunter's Issue," "Hunter S. Thompson Blast-Off Cannon Contest Under Way," "HST Was, After All, a Professional," "Dr. Gonzo's Final Dispatch," "RIP, HST," "Genius, Friend, Good Neighbor," "Disclaimer," roughly a dozen letters to the editor, and a bibliography. Tabloid style papers; near fine or better. A collection that would be difficult to assemble today.
[#031767]
$450
All books are first printings of first editions or first American editions unless otherwise noted.
See more items by THOMPSON, Hunter S.