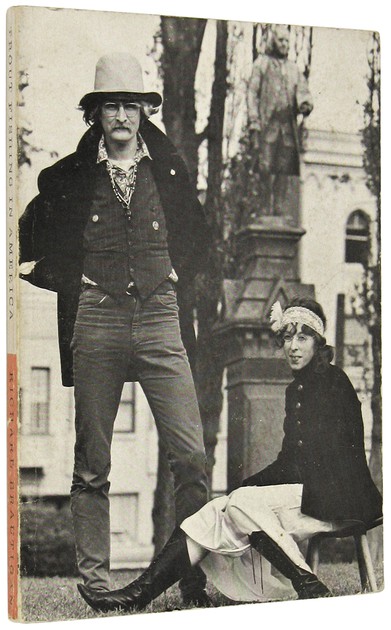 BRAUTIGAN, Richard
Trout Fishing in America
San Francisco, Four Seasons, 1967. The true first edition of Brautigan's breakthrough book, which established his unique writing style and sensibility and for the first time earned him a wide audience. Issued as "Writing 14" in the Four Seasons Foundation publishing series and preceding the Delta edition. Don Allen of Four Seasons picked up
Trout Fishing
after Grove Press dumped Brautigan when
A Confederate General from Big Sur
failed to meet sales expectations when it was published in 1964. With virtually no advertising or promotion,
Trout Fishing
went through multiple printings, sold 35,000 copies -- an unheard of number for any Four Seasons Foundation publication -- and made Brautigan one of the key writers of his generation. The book has sold two million copies in all its editions. The first edition of
Trout Fishing
is one of the most elusive of the key books of the 1960s. Reportedly its first printing was, like several other Four Seasons Foundation books, 1000 copies (2000 has also been stated); but copies of
Trout Fishing
turn up with markedly less frequency than his other Four Seasons Foundation titles,
In Watermelon Sugar
and
The Pill versus The Springhill Mine Disaster
: currently, one online site has listings for 14 copies of the Four Seasons edition of
Watermelon
and 20 copies of
The Pill
; the only copies of
Trout Fishing
listed are third and fourth printings or heavily worn ex-library copies. Often when copies do turn up, their condition is poor from having been read and re-read and, often, passed around. We could find records of only four copies appearing at auction, and three of those copies had pages detached. This copy has a coffee stain on the rear cover, light reading creases to the spine, and pages 9-18 detached. A good copy in wrappers only, but an extraordinary rarity in the first printing.
[#031656]
SOLD
All books are first printings of first editions or first American editions unless otherwise noted.