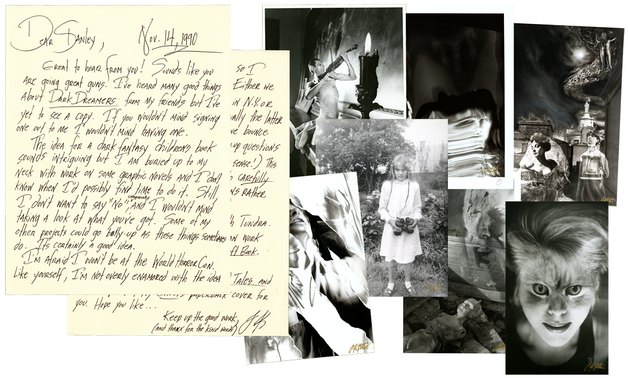 POTTER, J.K.
Archive of Original Photographs and Autograph Letter Signed
[c. 1990]. Fifteen original pieces of horror art (including one print and one set of contact sheets, in addition to photographs) by Potter, one of the most renowned contemporary fantasy artists. Potter uses traditional darkroom techniques to generate startling, often erotic, mind-bending, sensual images with both dramatic shock value and a dark sense of foreboding. His art has illustrated works by J.G. Ballard, Ray Bradbury, Stephen King, Poppy Z. Brite, Lucius Shepard, Ramsey Campbell, Clive Barker, William Gibson, William Burroughs and others. Poppy Z. Brite and Lydia Lunch are among his most frequent models. All of the photographs in this collection are from an unpublished book on his work. Most are 11" x 14", and most are
signed by Potter
.
Together with
an
autograph letter signed by Potter
to the would-be editor of the book, Stanley Wiater. Two pages, in which Potter weighs in on the idea of a dark fantasy children's book and works out the medium for an interview with Wiater. A fine collection from a work that was scuttled by the publisher and will never see light of day. Unique.
[#030133]
$3,500
All books are first printings of first editions or first American editions unless otherwise noted.