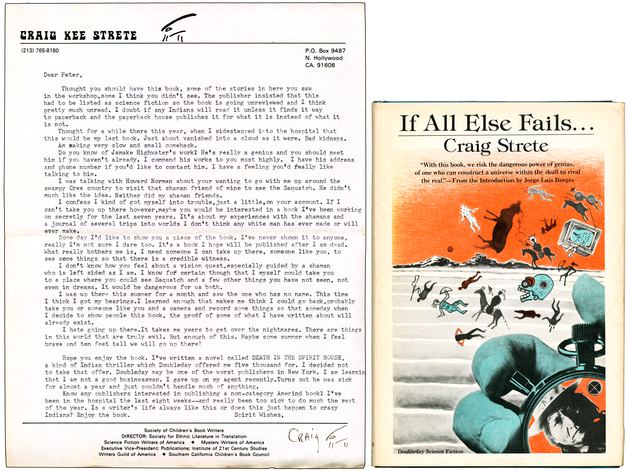 STRETE, Craig
Typed Letter Signed, with If All Else Fails...
Garden City, Doubleday, 1980. A full-page letter from Strete to another writer, in part transmitting a copy of his book
If All Else Fails
(included here). In the letter, Strete laments the science fiction classification the book received, touches on recent kidney troubles that landed him in the hospital, recommends his recipient connect with Jamake Highwater, and expresses displeasure with Doubleday and their offer for
Death in the Spirit House
(although Doubleday did eventually publish that novel). The bulk of the letter, however, concerns Strete's attempt to enlist the recipient in (while simultaneously warning him about) a suggested trip north for a vision quest "guided by a shaman who is left sided as I am. I know for certain though that I myself could take you to a place where you could see Saquatch and a few other things you have not seen, not even in dreams. It would be dangerous for us both. I was up there this summer and saw the one who has no name... I hate going up there. It takes me years to get over the nightmares. There are things in this world that are truly evil." Strete says that he has been working for seven years on a book about his experiences with shamans that he hopes will be published after he's dead. The letter is on personal stationery,
signed by Strete
, and is folded in half to fit into the book; near fine. The book,
If All Else Fails...
, is fine in a near fine dust jacket with a lower edge tear at the front flap fold. Introduction by Jorge Luis Borges, who calls the book "a collection of small nightmares of great consequence."
[#028978]
$750
All books are first printings of first editions or first American editions unless otherwise noted.
See more items by STRETE, Craig