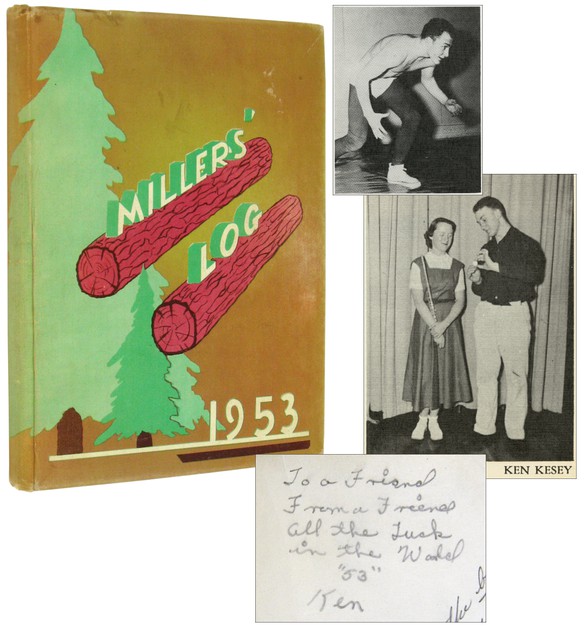 (KESEY, Ken)
Millers' Log 1953
Springfield, Springfield High School, 1953. High school yearbook, from Kesey's senior year.
Inscribed by Ken Kesey to junior Stephen Morrison
: "To a friend from a friend all the luck in the world. '53. Ken." Kesey is pictured in a number of places in the yearbook: as a member of the Senior Council; as "social promotor" [sic; also prescient, given Kesey's later cultural role]; in his senior picture; as "most talented"; in the Debate Club; in the Varsity "S" club for lettermen promoting the betterment of athletics; performing (shirtless) in the play "Submerged" (Kesey is mentioned but not pictured as a member of the Thespians); as crowned the king of the "Frosty Fantasies" annual winter party; in the student body play "Dear Ruth"; as court nominee at the P.E. Festival; as a Senior player for Varsity football and in the team picture (Kesey played "outstanding ball in the Miller line, [and] gained a berth on the All-District second team"); on the wrestling squad (more shirtlessness); and lastly as a senior on the wrestling squad, with the caption, "Ken Kesey, the 'Hooded Terror,' was perhaps just what the name indicates. Ken took third in District 6, first in Big Six, and third in State. He won 17 out of 20 matches during the season and wrestles in the 178 class." As this was Morrison's yearbook, it is has the customary hundred or so inscriptions from friends in addition to Kesey. Padded covers are rubbed, particularly at the corners. Still, a very good copy, and extremely uncommon to find signed by Kesey: with a senior class of less than 200 students and six decades having passed since their graduation, the number that will have survived this long is probably very small.
[#028934]
SOLD
All books are first printings of first editions or first American editions unless otherwise noted.