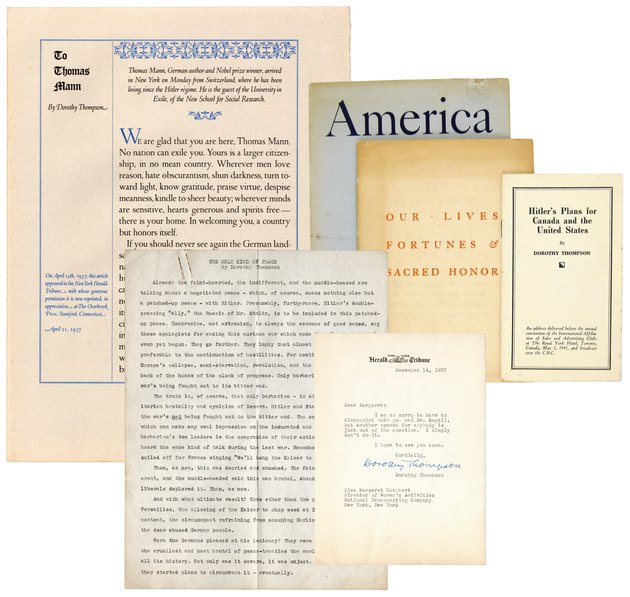 THOMPSON, Dorothy
Archive
[ca. 1937-1941]. A collection of works by Dorothy Thompson, journalist; radio broadcaster; wife to Sinclair Lewis (among others); dabbling lesbian; first American journalist to be expelled from Nazi Germany, in 1934; inspiration for the Katharine Hepburn film role (1942) and Lauren Bacall stage role (1981) in
Woman of the Year
; runner-up to Eleanor Roosevelt as
Time
magazine's most influential woman in America, in 1939; anti-Nazi, pro-Zionist supporter later turned anti-Zionist (to the detriment of her career); who famously underestimated Hitler in 1931 while simultaneously personally pissing him off ("I was convinced that I was meeting the future dictator of Germany. In something less than fifty seconds I was quite sure that I was not. It took just that time to measure the startling insignificance of this man who has set the world agog....He is inconsequential and voluble, ill-poised, insecure. He is the very prototype of the 'Little Man'"; and later quoted by President Obama in 2015: "It is not the fact of liberty but the way in which liberty is exercised that ultimately determines whether liberty itself survives." As follows:
Original typescript of "The Only Kind of Peace." 3 pages, undated, unsigned but with Thompson's name typed on all three pages. Argues passionately against a compromise with Hitler, based on the failures of the Treaty of Versailles. "Already the faint-hearted, the indifferent, and the muddle-headed are talking about a negotiated peace....The truth is, of course, that only barbarism - in other words, the totalitarian brutality and cynicism of Messrs. Hitler and Stalin - can triumph by the war's not being fought out to its bitter end..." Paperclip mark upper margin; folded in fourths; near fine. Provenance: papers of Harold Stearns.
To Thomas Mann. Stamford: Overlook Press, 1937. First separate printing of an article by Thompson published in the New York Herald Tribune the previous week, welcoming Mann to the United States from Switzerland where he had been in exile since the Nazi rise to power. In small part: "We are glad you are here, Thomas Mann. No nation can exile you. Yours is a larger citizenship...Wherever men love reason, hate obscurism, shun darkness, turn toward light, know gratitude, praise virtue, despise meanness, kindle to sheer beauty; wherever minds are sensitive, hearts generous and spirits free -- there is your home. In welcoming you, a country but honors itself." One sheet folded to make four 10" x 13-1/4" pages. Fine.
Typed letter signed, December 14, 1937, on New York Herald Tribune stationery, written to NBC's "Director of Women's Activities," declining a speaking engagement: "I am so sorry to disappoint both you and Dr. Angell, but another speech for anybody is just out of the question. I simply can't do it." Thompson's signature is scarce. 5-1/2" x 7-3/4". Fine.
America. Los Angeles: Modern Forum, 1939. The text of a lecture by Thompson, roughly 5500 words on the wonders of the American "race" and of American principles, in contrast to German imperialism. Foreword by Eddie Cantor. Sunned, stapled wrappers with a small chip at the upper edge of the front cover; about very good.
Our Lives, Fortunes & Sacred Honor. (San Francisco): (Windsor Press)(1941). The first separate appearance of this essay that first appeared in Thompson's syndicated "On the Record" column and is here published, without stated limitation, "in this time of urgency," following Nazi bombings of Westminster Abbey, the House of Commons and the British Museum, and urging U.S. involvement in World War II. 12 pages, printed in three colors. Saddle-stitched wrappers; edge-sunned; near fine.
Hitler's Plans for Canada and the United States. (Winnipeg): (Universal Life Assurance and Annuity Company), 1941. A small, 20-page booklet printing Thompson's address, in Toronto, to the International Affiliation of Sales and Advertising Clubs, which was broadcast over the C.B.C., at a time after Canada had entered WWII but the U.S. had not. In small part: "The swift, far-seeing man always knows that a forest fire is his business, even if it is raging miles away from his estate. He knows that the winds that blow across this earth, carrying the seeds of ideas, the germs of revolution and reactionism, the poisoned gases of conquest and war take no cognizance of boundaries. Slowly we are learning that we may sit dead at our desks or drop dead in our fields, while we are minding our own business." Trace edge foxing and slight rust to the side staples; near fine.
Six items from a small span of her career, showing the journalist as an unwavering advocate for a cause she deemed worthy prior to the nation adopting the same view.
[#032909]
$3,750
All books are first printings of first editions or first American editions unless otherwise noted.